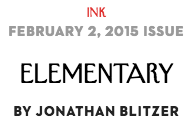 Kareem Abdul-Jabbar walked through the lobby of his hotel on Central Park South recently, doing his best impression of someone with a low profile. He swerved to avoid a chandelier (low clearance for a former N.B.A. center), then bumped into an old friend who'd been a coach with the Chicago Bulls. Handshakes, camera flashes. Finally, Abdul-Jabbar wriggled free. "I have somewhere to be," he said, adjusting a white cashmere scarf over his blue pin-striped suit. He ducked through a doorway, took a few loping steps to the curb, and scrunched into the back of a black Suburban.
He was late for cocktails at the Yale Club, where the Baker Street Irregulars, an eighty-one-year-old Sherlock Holmes society, was hosting its annual dinner. Abdul-Jabbar—a Sherlockian since he began reading Sir Arthur Conan Doyle as a rookie with the Milwaukee Bucks, in 1969—was making his inaugural appearance. Earlier that week, Abdul-Jabbar had announced that he would soon publish his first novel, "Mycroft Holmes," a thriller about Sherlock Holmes's older brother. Conan Doyle's Mycroft is old and haggard, "world-weary," Abdul-Jabbar said. "We want to see how he was before he took his lumps from the slings and arrows of outrageous fortune."
The car crept through midtown, and Abdul-Jabbar said, "I'm curious just to see who these people are." He did an impression of Jonny Lee Miller, the latest incarnation of Sherlock Holmes, on the CBS show "Elementary." "I am not a nice man. I am acerbic. I get things done in my style," he said, in a plummy English accent.
Abdul-Jabbar was raised in Harlem, but he lives in Los Angeles. "I first read these books on the beach in San Diego when we were playing the Rockets," he said. "Holmes saw clues where other people saw nothing." From then on, he imagined himself as a courtside sleuth. He recalled going up against Manute Bol, one of the tallest players in N.B.A. history. "He was the only guy I had to look up to. So I figured out his weaknesses," he said. "I make deductions. That's what I do. Hey, I read Sherlock Holmes." In the Holmes stories, the Baker Street Irregulars are a group of street urchins who pass along intelligence to the detective. Abdul-Jabbar lifted tips from ball boys. One time, he heard them complaining about how Bob Lanier—the six-foot-eleven Moriarty of the Detroit Pistons—would sneak cigarettes during halftime. "I knew, if Lanier was smoking, if I made him run in the second half he'd be in pain," he said. "These are the little clues I pick up."
Abdul-Jabbar walked into the Yale Club…
---
Recent News
[recent_posts type="post" category="" count="3″ offset="1″ orientation="horizontal" no_image="fals" fade="false"]