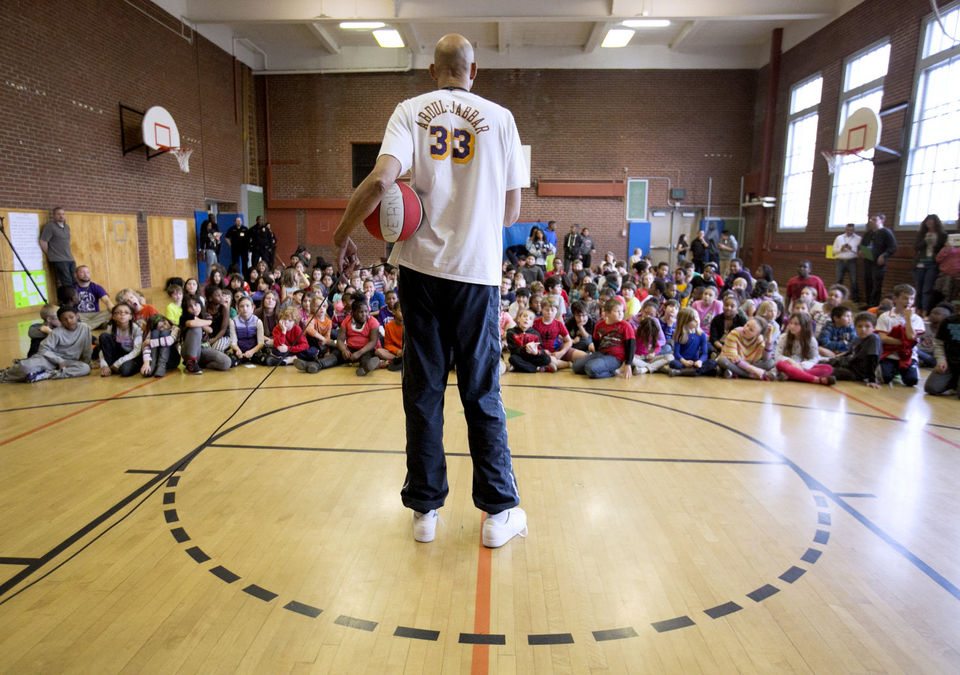 Kareem Abdul-Jabbar ducked his head as he entered the gymnasium, greeted by the screams and shouts of over 350 students at Vernon Elementary School in Portland. The 7′-2″ NBA legend visited the school on Friday, February 20, 2015, to answer questions about his career and to promote his new book, "Stealing the Game".
The book was written with Raymond Obstfeld. The pair have previously collaborated on other books such as "What color is my world," and "Sasquatch in the paint".
After talking briefly about the new book with the students, Abdul-Jabbar then opened up the floor to answer their questions. Dozens of hands shot up from the crowd.
"Have you ever regretted playing basketball?" as student asked. "No, not at all," said Abdul-Jabbar. "It's been a great life."
Another student wanted to know if he was born to play basketball. "For a long time, I thought I was born to play baseball," said Abdul-Jabbar.
When a boy asked if he could dunk the ball, Abdul-Jabbar laughed, and said he'd been known to dunk a few.
Abdul-Jabbar will be signing books tonight at Powell's Books at Cedar Hills Crossing in Beaverton at 7 p.m.
–Kristyna Wentz-Graff
@KWGPhoto
Read more and view more photos at OregonLive.com
[recent_posts type="post" category="" count="3″ offset="1." orientation="horizontal" no_image="false" fade="false"]